Leslie Montanile of Ask Leslie, the Lawyer
I like to tell people that my husband, Joe Montanile, and I were married from the day we met.
It was a beautiful brisk sunny Sunday afternoon in New York City, April 13, 1997, when we first locked eyes and smiles from across the aisles in a little-known record store "The Wiz" on 57th street.  
While we were both shopping for music conversation arose and ended up on a date later that evening.  Just 4 months later in August of 1997 we tied the knot overlooking the Pacific in Carmel, California.  
We have not been apart since. In almost 23 years of marriage, love, and life a lot has changed while much has stayed the same.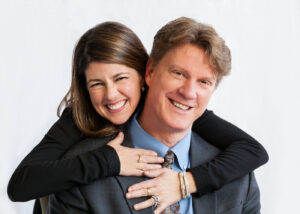 While we spent the first 5 years of our marriage dating each other and building our careers we also established a deep friendship, bond and trust that has continued to grow over 2 decades.  
We had a son in 2002,  became law partners in 2001 and down the road added 2 dogs to our family.  Each change came with its own set of joys, challenges and growing pains. Each phase of growth and change came with choices – grow with each other or grow apart.  Growing together takes patience, love, understanding, acceptance, trust and time. Growing apart, for Joe and I, was simply not an option we wanted to explore – so through all the joys and challenges we stayed the course, never forgetting the people we were on that beautiful sunny Sunday in April, 1997 and never forgetting to believe in what we started almost 23 years ago.  
  – Always looking forward to our next adventures together.
The information on this site pertains to New York law only and is offered as a public service. It is not intended to give legal advice about a specific legal problem, nor does it create an attorney-client relationship. Due to the importance of the individual facts of every case, the generalizations we make may not necessarily be applicable to any specific case. Changes in the law could at any time make parts of this website obsolete. This information is provided with the understanding that if legal advice is required the services of a competent attorney should be sought. 
The inclusion of the links/websites/additional resources does not indicate any endorsement of their products or services, and The Law Offices of Hausner & Montanile, PLLC makes no representations or recommendations as to those products or services. You should independently evaluation any information received from or about these organizations and companies. Hausner & Montanile, PLLC has no liability for any advice, services or products provided by any of them. 
Potential clients of the  law firm listed on this site is strongly advised to read the Statement of Clients' Rights and Responsibilities, which New York personal injury and matrimonial attorneys are required to provide to them upon retention of legal services by execution of a retainer or legal services agreement. 
The photos portrayed on this website are not actual clients, but actors and/or models.